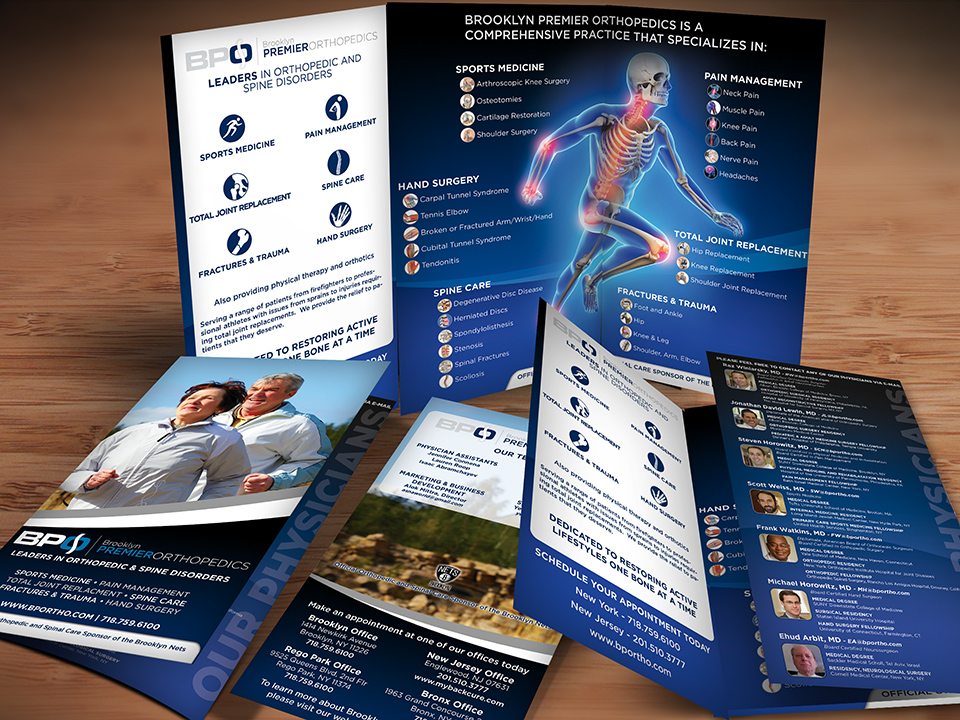 14 Jan

What Makes a Good Medical Brochure

Among any of the print collateral your medical office will have, arguably the most important piece will be your brochure. This will usually be a tri-fold or half-fold that will tell a little bit about your practice, contain some contact information, and hopefully drive some patients your way. Unfortunately many offices miss the mark when it comes to a well designed brochure that ultimately ends up hurting their practice rather than helping it. Here a few tips to ensure your medical brochure creates the results you want.

Less Words, More Visuals
Many medical brochures are guilty of this one big mistake. They will simply throw in every bit of information they have on every one of the procedures they do and conditions they treat. Simply put, no one wants to read anymore, especially if what they're reading looks like a small novel. Crunching in an entire website's worth of information into a small brochure is the wrong approach. So is having words so small, it requires squinting to read them all. Instead minimize your text and let visuals drive your copy. Instead of writing a paragraph on each condition you treat, try listing them as bullet points. You can even have visuals of the conditions or categorize them with graphics of the body parts they correspond to. The goal of your brochure isn't for the person reading it to become an expert on every condition you treat. It's to drive interest, raise awareness of your practice and ultimately drive the reader to either go on your website to learn more or call to set up an appointment.

Have an Engaging Cover
Though it's been said you should never judge a book by its cover, let's face it, we all pick up a book with an engaging cover. The same holds true for a brochure. We see hundreds of brochures in our lifetimes. Most are stale and forgettable. You want to use engaging visuals for your cover. Usually one big image is enough. Text should be at a minimum. A logo, some contact information, and line about what the brochure is about is usually enough. The visual on the cover should speak to the viewer and paint an image for them. A lot of times a medical brochure will have a picture of a skeleton or some part of the human anatomy that the brochure is about. Try instead for something that will be relatable to your potential patient. Are you a spinal surgeon? How about an image of a middle aged man playing with his child. Simple tasks like these become impossible with someone with chronic back pain. Are you a podiatrist? How about a picture of someone barefoot on the beach. Lots of patients with bunions, warts, or foot fungus tend to avoid being barefoot out of embarrassment, and this paints the picture that your practice will cure them of life changing issues.

Bigger Is Better
As mentioned in the last point, we've all seen hundreds of brochures in our lifetime. They usually are the same size and paper. So in a rack of brochures, they easily become indistinguishable (unless you have an amazing cover, see the point above!) Want an easy way to solve this issue? Stand out from the crowd and make your brochures bigger! We stress to every one of clients that bigger, thicker brochures tend to get more attention. Where the typical brochure is generally the size of a sheet of paper (8.5″ x 11″), we typically push for larger sizes such as 8.5″ x 14″, 11″ x 17″, or 9″ x 16″. The difference in size is usually just enough to make your brochure seem different in a pile of brochures. We also stress to go thicker. Rather than print on the same old paper stock, we generally have our clients print on card stock. With a brochure the thickness of about a greeting card, it feels more sturdy in the hands, and lets patients know you're serious about your practice and their welfare. Larger sizes and thicker paper options do generally cost a few bucks more, but the return in new patience is well worth the investment.

Brand Your Brochure
This maybe a no brainer, but it happens enough where we have to mention it – brand your brochure! Make sure your brochure looks consistent with the rest of your practice's branding. Make sure your logo is featured on there at least once on the cover. (Having it on the back as well is a good idea.) In additional make sure your brochure is using colors and fonts that coincide with your logo and brand. Simply put, if your brand colors are blue and orange, there's no reason your brochure should be green and red. If your logo has a nice modern looking typeface, there's no reason you should be using a script font or Times New Roman.

No Templates, Please!
A brochure sometimes becomes an afterthought to a medical practice. This can be true of marketing for your practice at a whole. After all, you're busy treating patients, you're not a marketing specialist. Because of this sometimes brochures can be lazily designed. This can entail basically just exactly copying an existing brochure you like. Or sometimes this means getting a cheap template online and just editing it to fit your practice. And the worst case scenario is using Microsoft Word's built in templates. These approaches just come off as cheap and can make your practice seem as such. If you don't want to put the effort into a professionally designed brochure, some patience can think that same ethic will reflect in the quality of care you provide them. Instead it's a great help for your practice to find a professional designer that understands what makes a well designed brochure. You'll want find a designer who can listen to all your needs and provide you a beautifully designed brochure specifically catered to your practice.

Need help creating the perfect medical brochure that will drive new patients to your practice? Graphics For Doctors has designed and printed hundreds of medical brochures for many satisfied clients. We strive to make sure the brochures we design are perfectly tailored to fit your practice's needs and get more patience through your door. Need a brochure designed? Great! We'd love to help! Contact us by email or by calling 888-803-2021 to get started.